---
---
REPP Sports Broken Arrow
PURE RESULTS
Broken Arrow draws from the power of cutting edge ingredients to deliver an explosive workout experience. Due to the engulfing energy contained within a single serving, Broken Arrow is only recommended for advanced stimulant users.
The formulation and science behind Broken Arrow brings you a high intensity powerhouse consisting of over 11 clinically backed ingredients. When it came down to compiling the set standard for Broken Arrow, we wanted to formulate a product meant for muscle building and pure energetic effects to help sustain levels during the most intense workouts.
NO BS FORMULATION
Often times, the pre-workout market is completely oversaturated by non-transparent proprietary blends that do next to nothing. We weren't going to cut corners at REPP Sports, we were completely focused on building a pre-workout that can help boost mental focus, increase muscular endurance and provide skin splitting pumps all at the same time.
There's a reason why Broken Arrow was recently named the best pre-workout with potent effects that assists all individuals with crushing their workouts and maintaining consistent energy levels to help reduce the dreaded crash or inevitable glycogen depletion that stems from intense training sessions.
REPP Sports was built behind the "No BS" mentality, just pure supplements with exceptional results and effects.
SWITCHING FOCUS
Our limited edition attachment to the Broken Arrow family, Hail Storm, was completely transformed by the addition of our patented ingredient, CitraFuze™.
This specific ingredient will change the way you forever look at pre-workouts with its intense mental focus and energy attributes.
Unlock Your True Potential. Harness The Ultimate Power. Nuclear Pre-Workout Fuel. Atomic Energy. Laser Guided Focus. Explosive Pumps. Rapid Injection. 6G Citrulline Malate. 3.2G Beta Alanine. 14+G or Active Ingredients. Harness The Ultimate Power: Increase Physical Output. Fuel Muscle Cells. Explosive Energy and Focus. Long Lasting Pumps. Fast Acting. Amp Your Workout. Explosive Energy from Start To Finish. Energy. Focus. Pump.
DIRECTIONS:
Take 1 Serving (1 Scoop) With 8-10 Oz of Cold Water 30-45 Minutes before Training. Due To The Strength Of Broken Arrow, Assess Your Tolerance By Starting With Only ½ Scoop Before Training. Once Tolerance Has Been Assessed, You May Increase To One Full Scoop. To Avoid Sleeplessness, Do Not Take Within 6 Hours Of Sleep. Do Not Ingest This Product Within 5 Hours Of Ingesting Any Other Caffeine Or Stimulant Source. DO NOT EXCEED 1 SERVING IN ANY 24 HOUR PERIOD.FOR A LEANER PHYSIQUE: Stack With Laxogenin To Reduce Body Fat And Increase Lean Muscle Growth. FOR HARDER, DRYER MUSCLES: Stack With Arimivar To Suppress Estrogen And Support Lean Muscle Growth While Increasing Strength And Stamina.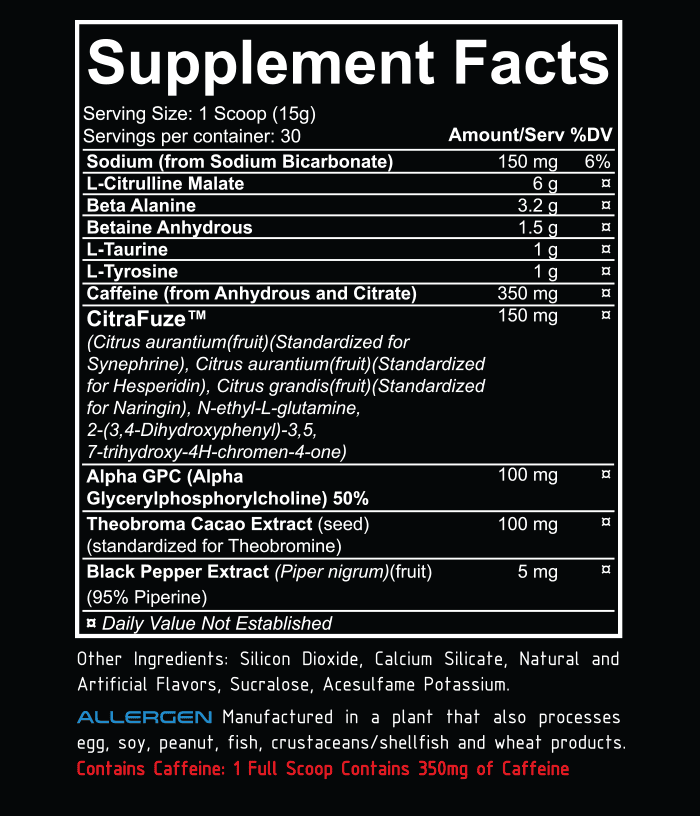 ---
QUESTIONS & ANSWERS
Have a Question?
Be the first to ask a question about this.
Ask a Question