---
---
RAZE | REPP SPORTS | Fat Burner
YOUR SECRET WEAPON TO SUPERCHARGE THE RESULTS OF DIET & EXERCISE TO RESHAPE YOUR PHYSIQUE. FIGHT CRAVINGS, SUPPORT FAT METABOLISM, AND BOOST ENERGY AND FOCUS DURING CALORIC DEFICIT.†
BOOST METABOLISM & FIGHT HUNGER†
SUSTAINED NO CRASH ENERGY†
ULTRA MENTAL FOCUS & CLARITY†
One of the strongest non-ephedra fat burning compounds in the world. It also boosts libido, making it the sexiest fat burner on Earth.†
 
Target Stubborn Fat Cells†
 
Immediate Metabolism Accelerant†
Sustained No Crash Energy†
 
Ultra Mental Focus & Clarity†
Extreme Weight Loss. Thermogenic Fat Burner. Metabolism Accelerator. Pure Energy & Focus. Rapid Injection. 45 Servings. Once Daily. Raze is an extreme energy and weight loss enhancer intended only to be used by high performance adult athletes with a high tolerance for stimulants. Each serving of Raze contains 250mg of caffeine and cannot be used in conjunction with other caffeinated products. Use with extreme caution. Take only as directed. High Intensity Fat Burner. Rapid Enhancement Weight Loss Formula. Target Stubborn Fat Cells. Immediate Metabolism Accelerant. Sustained No Crash Energy. Ultra Mental Focus & Clarity. All Day Weight Loss. Melt Fat.
Directions: 
Raze is a very powerful supplement and as such, should be used with extreme caution. Test your body's tolerance to Raze before establishing a routine. Start by taking 1 serving (1 capsule) daily with breakfast every morning for the first 3 days. Effects should be long lasting, but if they continue for longer than 15 hours, adjust routine to 1 serving every other day. Over time, dosage may be increased by taking a second serving NO LESS THAN 8 HOURS after the previous serving. DO NOT consume more than 2 servings in any 24 hour period. Take care to allow enough time for effects to subside before bedtime. Do not exceed 8 weeks of continued use.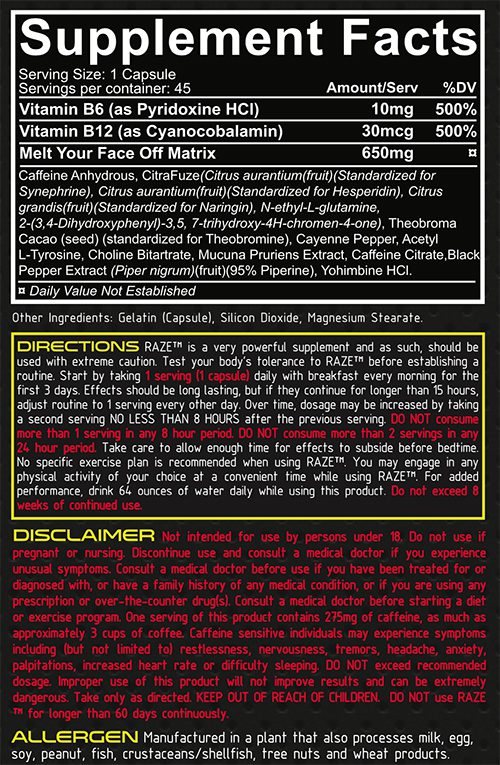 ---
QUESTIONS & ANSWERS
Have a Question?
Be the first to ask a question about this.
Ask a Question